Why Choose Solar Hot Water?
Solar hot water saves you more than money
Solar hot water systems are loved by Australians across the country and as energy bills continue to climb – switching to solar only becomes more appealing.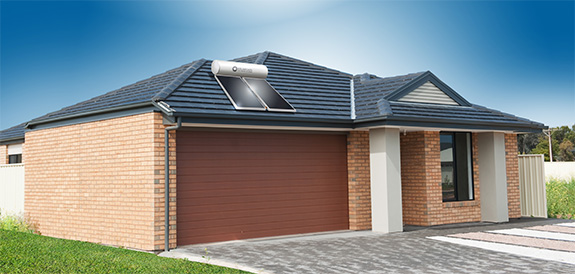 Aside from saving money, solar hot water systems provide a range of benefits to Australian home and business owners, many of which can be enjoyed for years after installation.
So before you decide on your next hot water system, consider this:
Solar hot water systems add value to your home or business
As more Australians understand the benefits of solar hot water, installing an energy saving system on your property adds instant value and desirability.
Solar hot water systems cut your bills and save you money
It goes without saying that solar hot water saves you money on your power bills, but just how much are we talking about?
Not many homeowners are aware, but domestic water heating consumes an enormous amount of energy, in many cases more than any other process in your home. From dishwashers and washing machines, to steaming baths and showers, we rely on hot water in our everyday lives and as power bills go up, so do our expenses.
Luckily, our hot water systems provide up to 90% of your hot water needs.
This means you no longer have to depend full time on gas or grid-sourced electricity, which leaves plenty of spare change in your pocket.
Solar hot water systems lower your carbon footprint
Installing solar hot water is one of the simplest ways to dramatically cut your carbon emissions and help contribute to a sustainable future. Solar hot water systems use the natural power of the sun every day of the year.
Solar hot water attracts plenty of government support
The solar hot water systems stocked by Same Day Hot Water continue to attract fantastic government support and there are still very generous rebates to take advantage of. Solar hot water rebates vary from state to state and model to model. To find out how much you can save, contact Same Day Hot Water today.
Solar hot water systems are safe, reliable and backed by Australian warranties
When installed correctly by a licensed plumber, solar hot water systems are low-maintenance and reliable. All Same Day Hot Water solar products are Australian supported and backed by comprehensive warranties. Plus, with little (or in many cases no) moving parts, our solar hot water systems provide uncomplicated ownership with plenty of buyer satisfaction.
Solar hot water systems will never leave you out in the cold
As long as there's a sun to power it, your solar hot water system will work every day – even in overcast conditions. As mentioned, solar hot water will provide up to 90% of your hot water needs.
But what about those days where you need a little bit more?
All of our solar hot water systems are boosted by either a standard electric or gas back-up, meaning you're never left feeling cold.
Sound good?
Find out how you can take advantage of solar hot water and ask about our current solar specials. Call 1300 88 13 43 to get started or contact us here!