Hot water fast with our Swift Service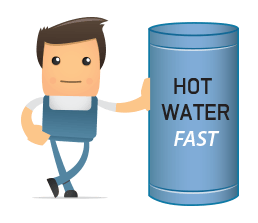 Our Swift Service gets you fast hot water in emergency situations and often the service costs you nothing!
If your current hot water system has broken down and you're looking to upgrade to a solar hot water system without the wait, Same Day Hot Water will provide you with a temporary hot water heater free of charge**.
This means you'll never be left out in the cold!
Many people believe that they cannot replace their broken hot water unit with a solar hot water system, because of the time delays involved with installation.With Same Day Hot Water, when you upgrade to a solar hot water or iStore Heat Pump system you'll never go without heated water. Ever!
Every time you schedule a service or repair with Same Day Hot Water, you can expect:
Friendly and helpful over-the-phone service
Quick arrival at your home or premises
Safe, professional and quality service
All the relevant paperwork and receipts
A clean and tidy workspace on departure
Now make it swift...
Rather than finding out what life's like without a water heater, get in touch with Same Day Hot Water on 1300 88 13 43 and ask about our Swift Service.
**Free Installation of temporary hot water system only applicable once customer has accepted formal quote for Solar Hot Water installation. If customer cancels contract, Same Day Hot Water will invoice customer $44 inc GST for each day temporary unit was on site. At no stage during this process does the customer own the temporary system; the temporary system remains the property of Solargain Pty Ltd T/As Same Day Hot Water.